Plant-based Baking Tips + Recipes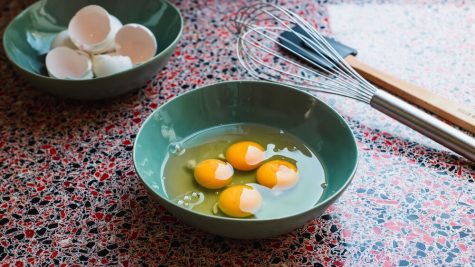 When baking some of the main ingredients are eggs, milk, and butter. But if you're vegan or just want a healthier way of baking those things aren't an option for you. Luckily there are many replacements for those ingredients that are plant-based friendly. Here are some: 
Egg Replacements: 
     Silken tofu (1/4 cup = 1 egg) 
     1 tbsp ground flaxseed + 3 tbsp water (1 egg) 
     1 tbsp chia seeds + 3 tbsp water (1 egg) 
     Applesauce (1/4 cup = 1 egg) 
      Mashed banana (1/2 cup = 1egg) 
There are also products you can buy that are also great egg replacements! 
Milk Replacements: 
     Oat Milk 
     Almond Milk 
     Coconut Milk 
      Rice Milk 
Butter Replacements: 
     Vegan Butter 
     Dairy Free Yogurt 
     Apple Sauce 
    Coconut Oil 
    Avocado Oil 
Here are some easy plant-based recipes: 
"Blow Ya Mind" Plant based cookies by Ambitious Kitchen 
Prep Time: 15mins Cook Time: 10mins Total: 25mins 
Everything you need: 
¾ cup Brown sugar

 

3 tbsp Almond Milk

 

1/3cup Coconut Oil

 

1 tbsp Flaxseed Meal

 

1cup Oat Flour

 
1cup Almond Flour (packed fine)

 

½ tsp Baking Soda

 

¼ tsp Salt

 

½ tsp vanilla extract

 

½ cup Vegan Chocolate Chips

 
Steps  
Line a large baking sheet with parchment paper

2.

Whisk together the brown sugar, vanilla, flaxseed meal, and almond milk until smooth. Then whisk in the cooled melted coconut oil.

 

Stir in the almond and oat flour, baking soda, and salt until well combined. Then add your chocolate chips.

 

Place about 2 tbsp of cookie dough in a circle for each cookie

 

Cool cookies for 10mins and enjoy!

 
Vegan Cake by Chocolate Covered Katie 
Cook Time: 30mins Prep Time: 10mins Total: 40mins 
Ingredients: 
1 ¼ cup any non-dairy milk

 

1 ½ tbsp vinegar

 

¼ cup any oil

 

1 tbsp vanilla extract

 

2 cups oat flour

 
1 tbsp baking powder

 

½ tsp salt

 

1 cup sugar

 
-Makes 2 8inch cakes or 3 6inch cakes 
Steps: 
Preheat oven to 350°F

 

Whisk liquid ingredients in a large bowl and let sit for 10mins

 

Add remaining ingredients to form batter

 

Grease pans and smooth batter into pans

 

Bake for 30mins, or until cake is risen and cooked through

 

Decorate to your liking and enjoy!!

 
Here are the links for the recipes: 
The Best Vegan Chocolate Chip Cookies | Ambitious Kitchen 
Vegan Cake – 5 Easy Flavors! {and NO flax eggs!} (chocolatecoveredkatie.com)