Lakewood Band Performance
Beginning of the Fourth Quarter Surprise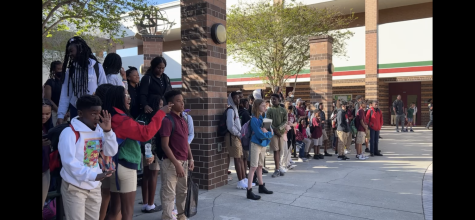 On March 22 John Hopkins Middle School students were welcomed back to school after spring break with a performance from the Lakewood High School band. It was very unexpected and an awesome surprise from our administrators.  
  As the bell rang all students were asked to stay in the courtyard, students were confused but moments later the band made its entrance on our outside stage. We have talked to some of our staff to see how they felt about the beginning of the fourth quarter surprise. Unfortunately, Zephyniis Wharton was not able to see the band play in person, but after showing her some videos she told us her opinion about the performance. "I thought it was really good."  
 It was an impressive performance by Lakewood High that brought up the energy of positivity in our school and just made everybody's day better. If you would like to join the Lakewood band in the future, you may go to the front office or ask John Littlepage for the form to be a part of this excellent band.