Ja Morant, a Star in the Making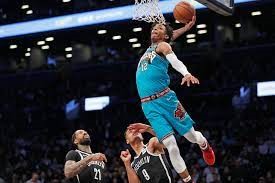 Temetrius Jamal' Ja' Morant is an African American basketball player and was born on Aug 10, 1999, in Dalzell, South Carolina. He went to school at Murray State University (2017-19) and was drafted into the National Basketball Association (NBA) first round: second overall pick to the Memphis Grizzlies and plays at the position of point guard (PG) his elite speed and vertical has made Morant a very entertaining player to watch with his flashy dunks and blocks led him to winning the Rookie of the Year honors for his outstanding rookie season. Finishing the season, averaging 17.8 points, 7.3 assists and 3.9 rebounds in 67 games leading Memphis 33-49 and improvement over last year 22-60. 
 Morant's second season in the NBA he finishes with 19.1 points, four rebounds, 7 .4 assists average per game with the Grizzlies going 38-34. This young star career has just begun, soon Morant will become a legend.