Top 5 Running Backs of 2021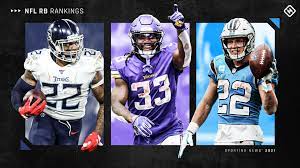 Nick Chubb (TheComeback.com)

Nick Chubb is the most difficult to tackle ball carrier in the National Football League. In just three seasons, Chubb's scored a total of 30 touchdowns. In his rookie season, he moved the ball for a total of 996 yards. His career average per carry is 5.2 yards. Chubb is a beast and if he has a great 2022 season, I could see him being higher in the charts.  

Dalvin Cook (TheDelite.com)

If he

had not

missed 23

games in

total from a variety of injuries, Dalvin Cook might have placed

higher on this list. In just the last two seasons,

C

ook had 2,692 yards and 29 touchdowns, which is amazing stating how many games he had missed. Cook should be placed higher on this list because his stats and how many games he missed are insane.

Alvin Kamara (BleachReport.com) 

Alvin Kamara is a touchdown machine in the Saint

s' 

offense, recording 43 scores on the ground and 15 through the air. In each of his four seasons with the team,

he

managed

to catch at least 81 receptions which is a ton for a running back, as well as rushing for 3,340 yards.

 

Christian McCaffery (TouchdownWire.USAToday.com)

Christian McCaffrey

is

not

just fast, but he increases his level of danger on the field with terrific vision and amazing balance. Even though his last season was shortened from an injury, only playing three games, he managed to score six touchdowns in that time.

He is

the only running back in NFL history to have ever caught more than 100 passes in back-to-back seasons. In his four years in the NFL,

he

has

recorded 3,145 rushing yards, 29 rushing touchdowns, 2672 receiving yards, and 16 receiving touchdowns.

McCaffery deserves

to

be in the

top

two

and even maybe the best.

 

Derrick Henry (SI.com)

Derrick Henry routinely gets first downs for his

team if

he is

not just scoring a touchdown. It seems almost impossible to bring him down on first contact

,

a

nd

his threatening

stiff arms

certainly

help

keep would-be tacklers

off

him. In his sixth year as a running back, he has recorded 5,850 rushing yards and 55 touchdowns

,

and

1,500 of those rushing yards, and 16 touchdowns, were only in his last two seasons.